Dairy Meal Feeding Systems
Why choose a Landmore Dairy Meal Feeding System?
Our in-shed dairy meal feeding systems have the capability to provide your herd with high-energy feeds, with the option of adding essential minerals to boost wellbeing and performance.
The speed of feed delivery from silo to shed will vary depending on what type of feed is being used in the system. Using the correct dry feed is essential to boost the system's speed and performance.
Using highly digestible dry feed will also retain premium milk solids and give each cow excellent nutrient balance, to prepare for the next calving season.
With over 20 years of knowledge and installation experience, you can be confident when choosing a Landmore Dairy Feeding System. We will work closely with you to design, install, and maintain a meal feeding system suited to your individual requirements. Along with aftercare service that is second to none.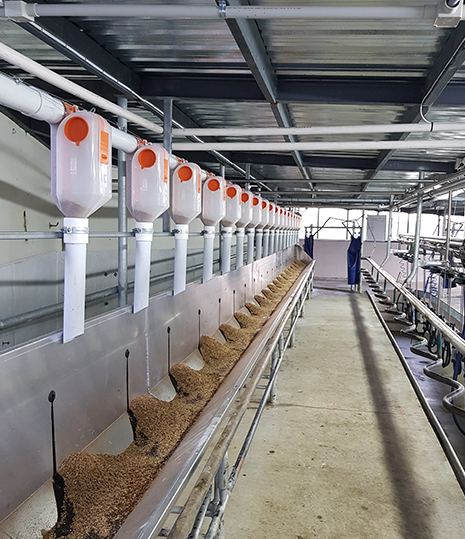 Systems
Landmore Agri installs systems for both Rotary and Herringbone sheds. We also install Goat and Sheep systems.
Rotary
Features a simple on-off control system and a robust triangular support system resistant to cow damage. Making it a reliable source of feeding for years into the future. External and internal sheds can be built with stainless or aluminium bins filled by a single feed head. There is also an option of multiple feed heads to mix feed.
Herringbones
A double steel dropper support assures no damage or access from stock to the individual dispensers. Sheds are also fitted with your choice of stainless steel or aluminium bins. Each bail also has a dispenser so, no cow will go hungry.
Goat and Sheep
From our many years of experience installing feed systems, we have created a Goat and Sheep feeding system. This will feed either two goats or two sheep from one dispenser.
Additional Extras
Blower Kits
Blower kits allow bulk trucks to quickly and easy fill a silo. These are an option available for new and existing silos.
Bag Off Chute
A bag off chute can be fitted to allow you to take feed out of the silo directly, without it going through the system. This can be convenient if you need to fill a container with a small amount of feed.
Vibrator Drive Motor
A vibrating drive motor can be mounted securely on the silo base to stop feed from bridging. As the vibrator motor is controlled by the feed drive motor, it only runs when needed. The adjustable vibration level feature makes it easier to mix feeds to boost performance and maintain great milk solids. These motors are available in both single phase and three phase options.
Silos
We proudly use Big Dutchman for our dairy meal feeding silos.
Big Dutchman is a global brand that stands for long-lasting quality, rapid service, and unsurpassed know-how.
Our silos are available in a range of sizes, with our most common being sixteen tonnes and thirty-two tonnes. The silos also have legs bolted to two rings for superior strength. Coming complete with two sight glasses for easily visible feed levels in your silo. These silos are also duo-galvanised constructed and non-corrosive moulded.
Mineral Dispenser
A common added extra that improves reproductive performance and animal health. The mineral dispenser is connected to the auger line that will distribute your preferred minerals throughout the feed. Mineral dispensers can be installed to new and existing systems.
Pencil Augers 125mm: Fully Galvanized
For loading wagons, trailers, and buckets. These will fill up to seven tonne an hour at a 70-degree slope.
Screw Conveyors
Screw conveyors are used in many bulk handling systems as an effective way to move product into the silos. This system features fully galvanized auger and frame powered by a belt driven motor, a reversing switch and has easily adjustable height to suit any silo.